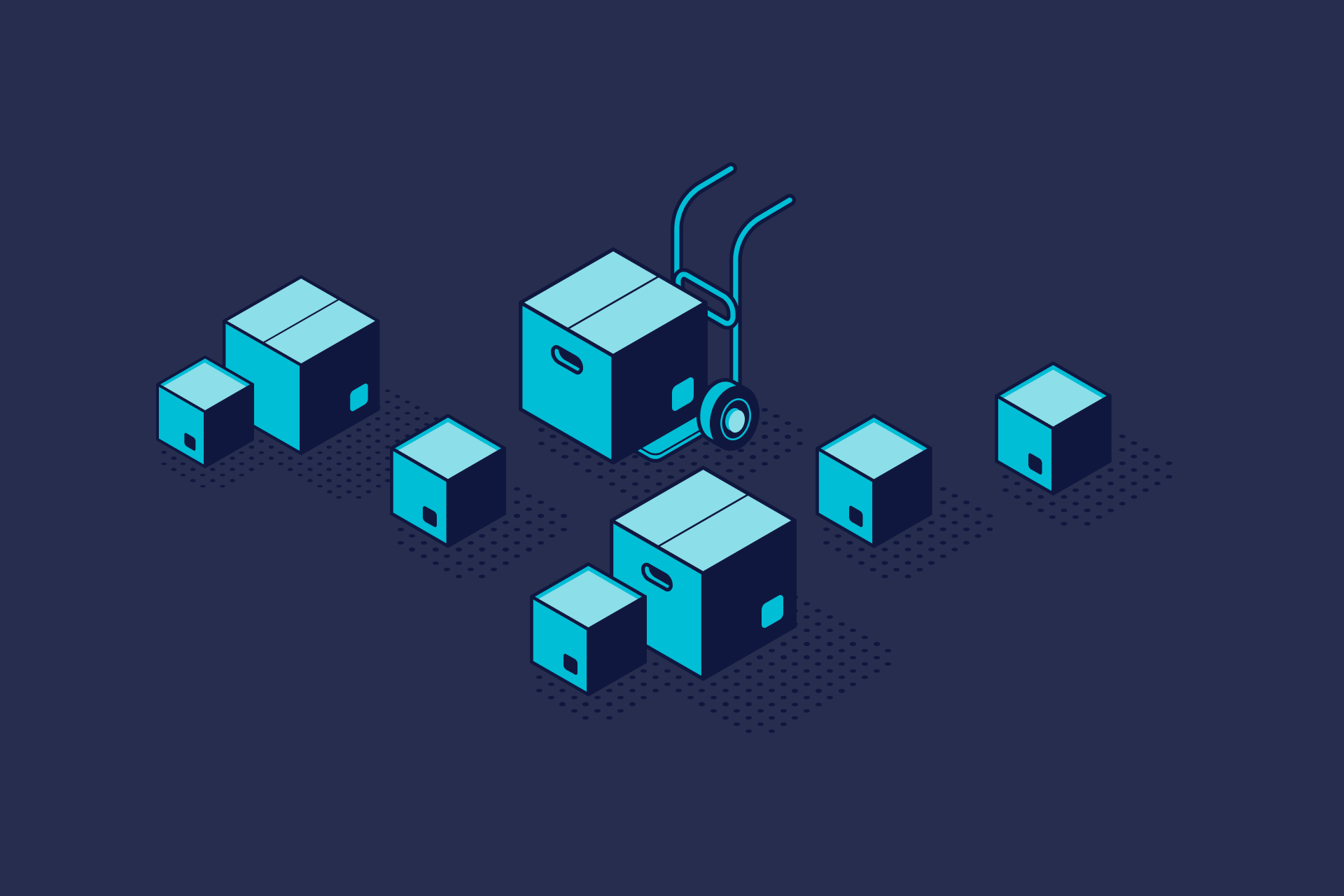 As the global pandemic recedes, this report analyses the last mile challenges and opportunities facing retailers and 3PLs and major industry trends going into next year.
Last mile logistics is booming. You only need to take a cursory look at the amount of capital being invested in this industry to understand that. It's a fertile time for providers in this space. And the huge influx in home deliveries resulting from the pandemic has seen demand skyrocket for innovative solutions that help retailers and logistics companies manage one of their largest supply chain costs.
Forecasts indicate that the EU and Great Britain could see as many as 20 billion B2C deliveries a year as soon as 2025. In 2021 alone, a 30% increase is expected in ecommerce revenues across Europe.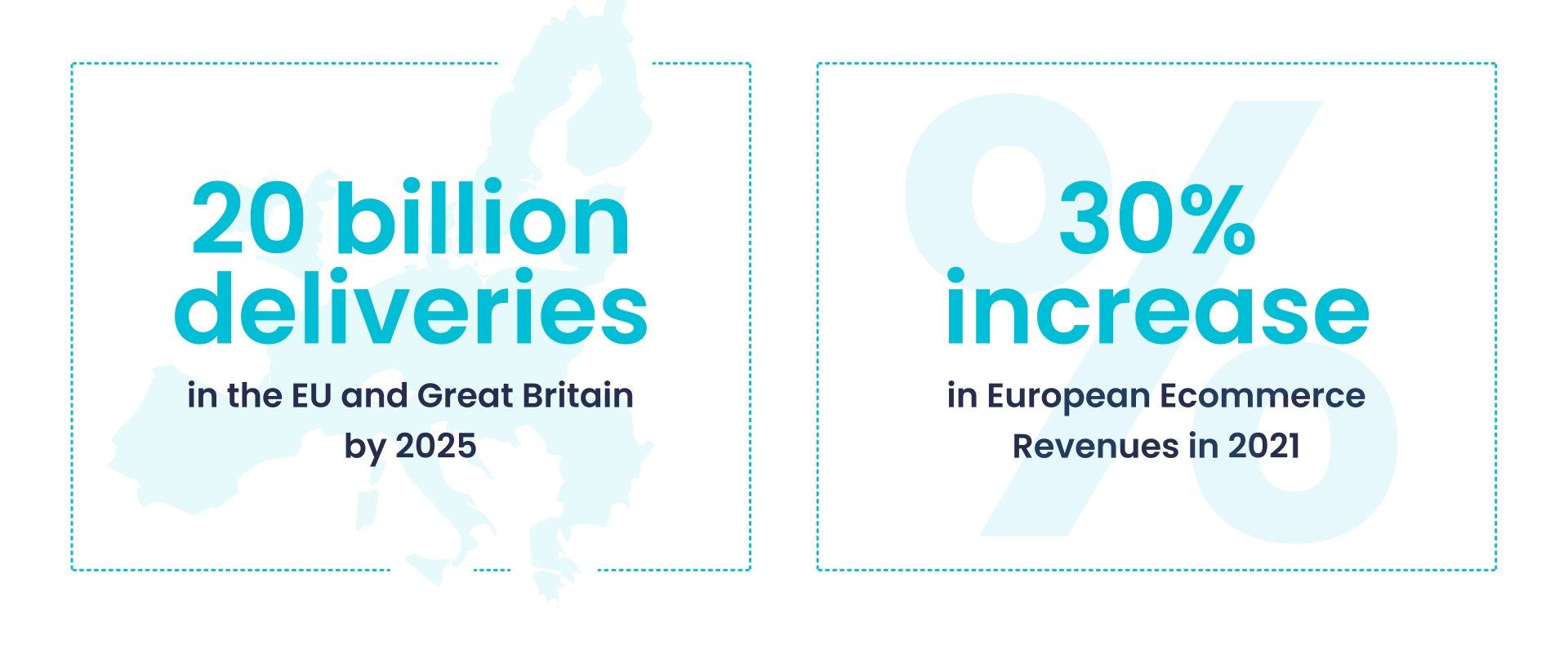 As tantalising as the potential rewards may be, the fact remains that margins on deliveries remain incredibly squeezed. After all, the last mile may be the shortest leg of the delivery journey, but it accounts for more than 50% of total shipping costs. And it accounts for a similarly large proportion of total emissions per package.
This report analyses new and recent trends in the last mile industry. We assess some of the methods that agile retailers and logistics companies are using to cut their costs and emissions. And the continuing role of third party logistics in supply chain management. The global pandemic may be receding, but its effects are still being felt in logistics.
As shippers scale up ever-more complex delivery networks to meet this burgeoning demand for deliveries and heightened consumer expectations for instant gratification, it becomes increasingly difficult to maintain clarity across their last mile logistics.
The added pressure to lower emissions only increases the need for new solutions to these challenges, driven by innovations in automation and a reframing of perspectives among senior leaders from delivery operations to delivery experiences.
We will consider:
The Aftermath of the Pandemic on Last Mile Logsitics

More Complicated Delivery Networks

Greater Degrees of Automation

The Continuing Rise of Experiential Deliveries

Emissions Continue Upwards Trajectory
---
The Aftermath of the Pandemic on Last Mile Logistics
Enough has already been said about the impact of the global pandemic on the supply chain and last mile logistics in particular. Suffice to say that 2020 saw the volume of B2C parcels delivered across the EU and Great Britain exceeded 10 billion for the first time. This is a figure that Last Mile Experts expects to reach 20 billion in less than five years and 40 billion by 2029. That's an acceleration of four-six years compared to pre-COVID 19 projections.
Deloitte notes that last mile growth was already very strong prior to the pandemic. This is a result of the shift in consumer appetites to online buying modes. As a result, businesses were already facing mounting pressure that was driving steady innovation.
Then came the pandemic. The steady expansion gave way to a sudden, chaotic explosion in demand.
This gave a huge advantage to businesses that already had delivery systems in place. They could rapidly add capacity and offer new services or capabilities. Those without existing infrastructure were forced to rely instead on 3PLs and gig economy services to reach their customers.
What Comes Next?
With the economy reopened, a lot of the chaos has now receded. But there things are unlikely to go back to how they were pre-pandemic. The focus on safety remains a major consideration moving forward, with contactless delivery workflows establishing a new normal for door-to-door interactions.
Even once the pandemic has receded, some experts warn that retailers and logistics companies must be ready to deal with further distortions to the supply chain. Still in late 2021, we are seeing consumers hoard products that they rationally know won't run out. Most acutely, we witnessed this with the UK petrol shortage in September. It only took a slight drop in supply as a result of the driver shortage disrupting fuel deliveries to cause a spike of panic buying that left pumps dry and forecorts closed.
According to behaviour experts, this response is a psychological mechanism to make consumers feel more in control over their fate in the face of the pandemic. But hoarding doesn't necessarily result in greater consumption, so shippers that see these spikes must be prepared for a subsequent drop in demand.
Following the toilet paper shortage at the beginning of lockdown, Robert Boute, Professor of Supply Chain Management at Vlerick Business School and KU Leuven explained:
The distortion of the demand pattern aggravates as we move more upstream in the supply chain to the end suppliers. They will face a highly unpredictable demand in the months to come.

Robert Boute, Professor of Supply Chain Management at Vlerick Business School and KU Leuven



Conclusion
Growth in home deliveries is on an accelerated path due to COVID-19. Even as the immediate effects of the pandemic recede, B2C deliveries are expected to double in Europe over the next five years. But shippers will need to pay close attention to the continued prevalence of distortions in the supply chain as a result of changes in consumer psychology brought on by the pandemic. Failure to account for this 'Bullwhip Effect' can have severe long-term consequences.
---
More Complicated Delivery Networks
As demand for rapid and low-cost deliveries continues to rise, last mile logistics becomes much more complicated for shippers. Two-day delivery is now a minimum expectation for many verticals outside of big and bulky. But it requires goods to be stored closer to recipients. The upshot of this is that micro fulfilment has become a necessity for more shippers. A retailer that might previously have had one or two distribution centers now requires at least five. For next-day delivery, the optimal number of locations increases exponentially to as many as 40.
Rising Demand for 3PLs
Such huge infrastructure costs are an unrealistic expense for most. Some have found creative ways to increase their warehousing space, through the use of 'dark stores' (repurposing of closed stores as local fulfilment centers) during the pandemic - a trend that shows signs of continuing as stores reopen, with supermarkets doubling up as local fulfilment centers.
But the ever-present need to deliver higher volumes, faster means that the role of third party logistics in supply chain management continues to grow. As a result of this drive for multi-carrier delivery operations, the global 3PL market is on course to exceed $1.3 trillion by 2024. In the US, 90% of Fortune 500 companies work with at least one 3PL. That's almost double the level seen two decades ago.
But constraints such as cost, coverage and areas of specialisation mean it's not just the volume of 3PL deliveries that's rising. It's also the number of carriers each shipper needs to work with to scale their delivery operations. The effect of these knottier delivery networks is a relative lack of visibility for shippers across the totality of their last mile operations, which are becoming much more fragmented across internal fleets and multiple external carriers.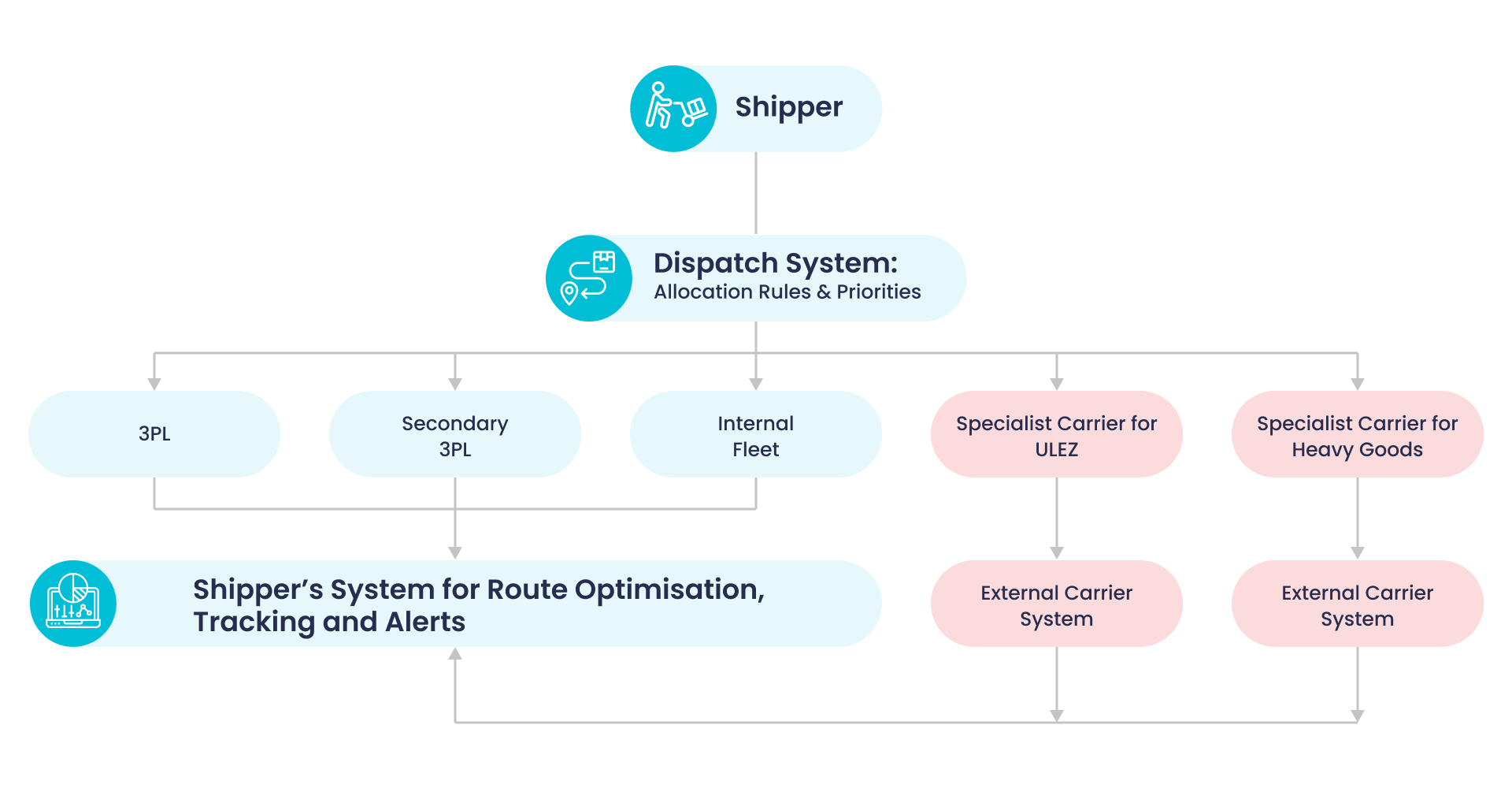 Conclusion
The need to scale deliveries and increased consumer demand for shorter delivery times have conspired to create a situation whereby shippers need more local fulfilment capacity. Outside of creative solutions such as dark stores, the prohibitive infrastructure costs and time to scale capacity mean most shippers are turning to 3PLs to build up their networks more quickly. As a result, many retailers are struggling to maintain real-time visibility over their last-mile operations.